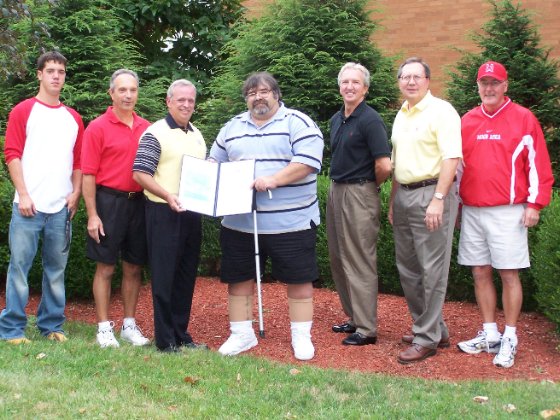 Longtime Moon contributor honored Friday
Matt Grubba, Moon Record Sports Editor - Thursday, September 7, 2006
Friday afternoon, Moon baseball took the time to honor one of their own, with a little help from the Pennsylvania General Assembly.
Joseph Marek, known as "Joe Mav" to his friends, was commended by the General Assembly, a recongition that was introduced to the legislature by state representative Mark Mustio.
His brief honoring ceremony was a surprise event, with Marek totally in the dark as to why people had gathered in the front lobby of the high school.
"I had no idea. I thought they were going to do something, but I didn't really expect this," Marek said.
Marek, who now lives in Upland, Pa., outside of Philadelphia, is entering his 35th year of involvement with Moon baseball, dating back to his tenure as team manager for former head coach Ray Bosetti. He was in town this week, in part to watch Moon's first football game of the season.
"I was totally surprised," he said. "I'm a person that doesn't believe in being in the limelight. I've always put the kids out ahead and I hide behind the curtain."
Marek's current involvment with the program is the maintenance of the Moon High School baseball and Moon Twp. Legion baseball web sites. He carries these tasks out from his Upland home, while holding the unofficial title of Moon baseball's lead historian.
Over the last 35 years, Marek has performed a number of tasks at various levels. From his graduation from Moon in 1975 until moving away from the area in 2000, he served as a varsity assistant coach and statistician.
"It was rough to move away from here," he said.
"But I gained a wife!" he added, laughing.
"My wife Kelley, she's a very sweet girl, and she said, 'I'll move this way.'"
"But we looked at what she was making per year and what I was making, and I said, 'We're going to Philadelphia.'"
His list of other titles he held before leaving the area is a lengthy one.
He served as an assistant on the Moon Twp. American Legion team for 16 years, off and on through his time in Moon.
Other teams for whom Marek has coached include the Pittsburgh Little Pirates, where he coached alongside former major league player Frank Thomas, in addition to coaching in the Moon Twp. Western Area Girls Softball league.
Marek even served two years a piece as commisioner of the Moon Twp. Lassie League and the Moon Twp. Colt League.
With such a long history on involvement in area baseball, it was only appropriate that Rep. Mustio, one of Marek's 1975 classmates at Moon, was the one on hand to present him with the bill honoring him.
The honor is timely, both in the sense of Marek's 35th season of involvement approaching, but also because his websites are approaching a combined total of 100,000 hits in their nine years of operation.
"Without that website, I'd probably be jonesing for baseball a lot more," Marek said. "Luckilly, (former Moon coach) Tom Hoffman and Dom Santeufemio have helped me out."
"I call Dom and he feeds me all the stuff about the game, and if I can't get a hold of him, I'm online, trying to find something."
So as the 2007 season rolls around, Marek will be ready for another year of crunching the numbers for Moon baseball, and, as he always does, returning to Moon Twp. for the annual awards ceremony for the team.
Of course, in all the hype on Friday about Marek's baseball involvement, it was still something of a mystery to those who weren't there in the beginning as to why he is known as "Joe Mav."
"I moved to Moon in the summer of 1969, and about two months into seventh grade, some of my classmates started calling me 'Joe Maverick,'" said Marek on the butchering of his name.
"I wasn't fond of it, but it got reduced from Maverick to Mav, and it sort of stuck. I learned to live with it."
Whether or not they knew the history of the name, anyone involved in Moon baseball throughout the last 35 years knows Joe Mav, and Marek hopes the affiliation with the program will continue far into the future, as his websites celebrate their 10th anniversary in 2007.