---
You are viewing an archived edition of the 2002 Moon Area High School Baseball Homepage. To view the current and most recent page click this link :
Moon Area H.S. Baseball Home Page: A Homepage dedicated to Moon Baseball

---
Hi again, everyone ! Just one more note before I put this baby in to hibernation. I aam not of the future of this page. I am hopeing to return it for the 2003 season. However, I am not sure I will be able to. I will do everything in my power to do so. Have a great winter, I will probably start updates and pre-season news come January. One other sad note, I was just informed of the passing of a dear friend to both me and Moon Baseball. Don Casasanta passed away last week. Don was a great gentlemman and Moon Township Supervisor. He was also a great father to Don and Maureen and a great husband. He will truly be missed by all of us. I send my deepest condolences to his family. May God Bless you, Don !!!
Also NEW !!! I added a few new links to the LINKS below, I reviewed them and felt they were worthy of review.
A special note, we send out our best wishes and prayers for a speedy recovery to Joe Farquhar. Joe was hospitalized on Wednesday and underwent quadruple heart bypass surgery at St. Francis Hospital on Thursday. As of the banquet, he was recovering in intensive care. May God Bless him and his family at this time. Our prayers are with you Joyce and Pam, David, Tom and .
Good day, everyone !!! This will probably be one of the last updates on this page for a while. The MAPHC/MAHS Baseball Banquet is over. It was a great time. Kevin Lovely, David Kuhn, and Brian Holliday were inducted into the 2002 Chapter of the 100/.300 Club. Dave Kuhn won the Batting Championship Bat with a .403 average. Marcia Rinaldi became the first non-player to win the MVP Award for all her hard work in MAPHC during the past three years. A new club was started for pitching strikeouts, The 200 K Club, Derek Blyzwick and Brian Holliday join Charter Member Michael Stopperich in this club. Michael Ritter was given the 2002 MAPHC Scholarship Award of $500. President Steve Holliday presents the team with Special citations from Govenor Schweiker, State Senator Murphy, and Representative Pippy on becoming the first team in "AAA" classification to win PIAA Championships in baseball, back to back. I just want to add special thanks to Steve and Marcia and the Moon Area Pinch Hitters Club for continuing the hard work and dedication that was started eight years ago by a few parents who wanted to make things a "little better" for the kids.
The Moon Township American Legion team had a great run again. They lost only one game away from going to the Regional tourney. They finished 19-6-1 overall. You can read the results of their games on their unofficial website on the internet at : Moon Twp. Legion Baseball Home Page: Official Home of Moon Twp. Legion Baseball

---
Alas, the season is over !!! History has been made !!!! RECORDS have fallen !!!! That's right, the Old Moon Area H.S. Baseball Record Book has a bunch of new records to admire. As you could've guessed with all the talent that has been around for the past few seasons something had to go. Kevin Lovely, David Kuhn, Brian Holliday, and Derek Blyzwick have added their names to the book. For your viewing pleasure just click this convienent link which will let you see all the changes.
The Moon Area Varsity Baseball Record Book Homepage: Moon Area H.S. Varsity Baseball Records 1963-2002

---
Tiger pitchers Derek Blyzwick and Brian Holliday were named to the Pittsbugh Post Gazette and Pittsburgh Tribune Review All-Star teams. This is the second time Holliday was named to both team. Head Coach Tom Hoffman won his second Trib-Review Coach Of The Tear award. Austin Sykes and Kevin Lovely made the paper's All-Section team along with Blyzwick and Holliday. Mt. Lebo's Cris Koutsavolis was named the PPG's and the Trib's Player Of The Year
---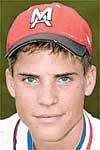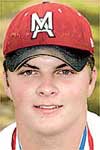 ---
MOON AREA HIGH SCHOOL BASBALL, PIAA Class AAA BACK-TO-BACK Champions (2001-2002)
A dream became a reality on Tuesday June 18, 2002. A team that grew up together, played together, and came back to Williamsport together made a bit of PIAA Class AAA History. The kids that advanced to the Pa. State Little League title game, advanced to the 1998 Pony League World Series, won many tournaments and league titles became the FIRST TEAM IN PA (PIAA) State Baseball history to repeat as Champions in the Class AAA classification. Senior RHP and University of Pittsburgh recruit Derek Blyzwick pitched six outstanding innings, strking out seven and only allowing 5 hits. His pitching partner, Senior LHP and the Pirates No.12 draft choice, Brian Holliday came on in the seventh inning to nail the door shut on very feisty and outstanding Bethlehem Liberty team. The winning run came in a 375-Ft bomb over the LCF Fence at Williamsport's Historic Bowman Field, That blast came courtesy of Ryan "Homer" Rinaldi. It gave the Tigers a 3-0 lead that held up until the Hurricane sixth inning when they narrowed the margin to one run at 3-2. It was also Rinaldi's relay throw to shortstop Michael Ritter who's perfect throw to Catcher Derek Compo stopped Liberty from scoring a tying run. The 3-2 win, thus concludes an chapter in Moon Area Baseball history where a group of young gentlemen played together, dreamed together, and won together. God Bless their dreams, celebrate their realities. Gone will be Holliday and Blyzwick, the best one-two pitching punch in the state. Gone will Dave Kuhn, Kevin Lovely, Rinaldi, Compo, Ritter, Jeff Bradford, Mike Bruzesse, Brian Jones, John Scott, Scott Thompson and Justin Bryant. The seniors that stuck together for years. Let me not be remiss on thier coaches, In Little League and Pony League, Mark Thompson and his many assistants during those years. Ray Bosetti, the former Moon Area H.S. Head coach in their first year. Tom Hoffman and Dom Santeufemio (and Mike Lovely) in their final H.S. years. I for one, thank the Good Lord, that I had the opportunity to also have had a chance to be with them. I will always cherish the moments that I had to spend with them from long distance. I look forward to the future, theirs and their under classmen teammates. Nate Nery, Austin and Adrian Sykes, Dan Pallechia, Matt Dowdell, Ben Levine, and Dave Cimato.
Special thanks to Head Coach Tom Hoffman for allowing me to be part of the "Last Ride". To Bill Moore, for his constant support and Tiger Pride. To Mike Hauser for his being there. To Dom Santeufemio, for giving me up to the minute nightly reports on the team's games. To Joe Farquhar, for keeping me me up to date with stats and being my replacement for the past two season. To Mike Lovely for all his help and support. To Jerry MacFarland for keeping the kids healthy and patching their wounds. To Mikey Shutak, for being the SHU !! To Bill Utterback (Allegheny Times) for his great articles, also his fellow staffers, Bill Allman, John Perrotto and others. Thank you to the Moon Area Pinch Hitters Club for keeping the kids happy. To Donna Santeufemio and Jill Hoffman for allowing their husbands the time to work with the kids. To my wife, Kelley, for allowing me to run home and all over the state to be with the team. And to the players, for giving me a sense of youth, beautiful memories, and a reason to write with pride about them. To my parents, Olive Joan and Joseph Marek, for raising me and letting me live my baseball dream. And last but not least, Former Moon Area H.S. Varsity Head Baseball Coach, Ray Bosetti for being my mentor, friend, and second father. GOD BLESS THEM ALL !!!! Good night, I am going to bed finally (It's 5:00 AM, I ot home at 2:00 AM)
---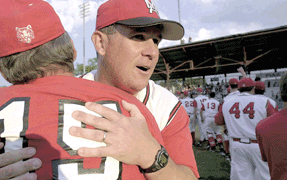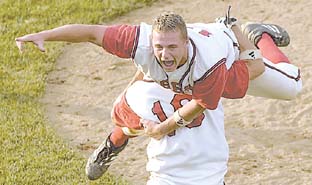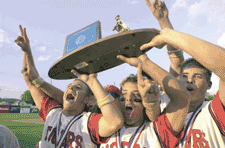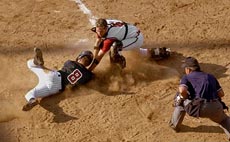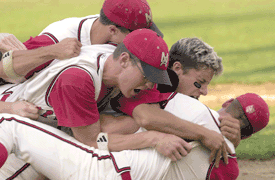 ---
WHAT THE NEWSPAPERS WERE SAYING (besides Bob Smizik)
Tigers win second straight Class AAA championship
By Bill Utterback, Times Sports Staff 06/19/2002
WILLIAMSPORT - Kevin Lovely chose to celebrate by thrusting two fingers from his right hand into the air, while John Scott encouraged the jubilant crowd by raising the index fingers of both hands toward the sky. Which pose best punctuates back-to-back state championships? Jeff Bradford smiled and reached into his back pocket for the answer. He carried his 2001 PIAA Class AAA medal through the 2002 championship game, then retrieved it in when the victory was secure. As the two gold medals collided above his heart, they made the most delicious "ping." The sound, the pose, and the achievement were unprecedented.
Moon Area produced a 3-2 victory over Bethlehem Liberty Tuesday in Williamsport to become the first AAA team in the state to win consecutive PIAA championships since the tournament began in 1977. "Unbelievable," senior David Kuhn said. "Awesome," Lovely said. "I'm in a state of shock," Austin Sykes said. "Nobody else has this," Bradford said as he patted the gold medals. "Nobody but us."
Derek Blyzwick pitched six innings and earned the victory, while Brian Holliday pitched the seventh inning and earned the save. In Moon's eight-game PIAA winning streak over the past two seasons, Blyzwick is 4-0, and Holliday, a Pirate draft choice, is 4-0 with a save.
Ryan Rinaldi, called "Homer" by friends and family since a regrettable haircut in the eighth grade, launched a monstrous solo home run in the sixth inning to provide the ultimate margin of victory. Lovely contributed three hits and the game's first RBI, while Austin Sykes used a laser single to drive in the second run. Sykes finished the season with a .500 postseason batting average. Kuhn scored two runs and extended his PIAA hitting streak to seven games over the past two years. Rinaldi, shortstop Michael Ritter and catcher Derek Compo combined to make the defensive play of the game, nailing a runner at home plate in the third inning. Moon had at least one hit in every inning, and received at least one hit from the first eight batters in the order: Kuhn, Lovely, Bradford, Sykes, Holliday, Rinaldi, Compo and Ritter.
It took many hands to shape the victory, and it ended with many fingers thrust into the air. It ended with blood, sweat and tears. Kuhn was bleeding above his left eye after the postgame celebration - which he started by tackling Holliday. "The bottom of the pile is the worst place to be," he said. Sykes was sweating as Liberty scored two runs in the bottom of the sixth. "My heart was racing." Rinaldi had tears. "This is the best feeling in the world, to share something like this with your friends."
Blyzwick, a University of Pittsburgh recruit, was commanding, allowing two hits through the first five innings. He made victory possible. "Holliday gets most of the headlines, but Derek's a big-game pitcher, too," Moon coach Tom Hoffman said. Moon's maturity was a key to the victory. On two occasions, the Tigers met adversity and produced possibility.
In the top of the third, Ritter stroked a leadoff double. With one out, he was caught off second base on a ground ball back to the mound by Kuhn. Realizing his mistake, he allowed himself to get caught in a rundown, then tagged out at third, while Kuhn raced to second. Lovely drove the next pitch into center field, scoring Kuhn. In the bottom of the third, Rinaldi misplayed a single to left. The ball got past him, but he retrieved it quickly and made a perfect throw to Ritter, who relayed the ball to Compo at the plate. If Ritter doesn't extend the rundown, Moon doesn't score. If Rinaldi doesn't turn the error into an out at the plate, Liberty scores another run. "Our big philosophy is play smart and play hard," Hoffman said. "These kids have so much fortitude. They come back and they come back and they come back. Nothing is too difficult for them."
In the fifth inning, Kuhn and Lovely hit back-to-back singles, then Sykes went to the plate with two outs. He had been walked in his previous at-bat, and he looked at two balls off the plate. He lasered the first strike to left field for a run-scoring single. "I felt like I had waited so long for something to hit," Sykes said. "As soon as I saw one over the plate, I wanted to hit it as hard as I could."
In the sixth, Rinaldi hit his home run to left -center field. He cleared a 12-foot wall between the 356-foot mark and the 405-foot mark. "That was the biggest hit of my life," he said. "That was much bigger than anything else I've done." In the bottom of the sixth, Liberty used two infield singles and two errors to score two runs, creating a little drama.
In the seventh, Holliday went to the mound and walked the first batter, then retired three consecutive batters. In 29 innings in PIAA playoff games over the past two years, he allowed one earned run. In the seventh, with a runner on first, first baseman Nate Nery made a neat scoop of a pickoff attempt that dove into the dirt, then Kuhn, who moved to catcher in the final inning, blocked a breaking ball that dove dangerously wide of the plate.
Hoffman made three moves - Holliday, Nery and Kuhn - and each resulted in key plays. That's the story of Moon's season: lots of players contributing in lots of ways, start to finish. "It took everybody on the team to do this," Sykes said. Then everybody joined the celebration, thrusting their fingers into the air, striking championship poses. Bradford struck the most enduring pose, wearing two gold medals. "I was the only one who remembered to bring (the 2001 medal)," he said. "I wasn't going to pull it out if we lost, but I thought it would be nice to have if we won." It looked good. It sounded good. Ping-ping.
Moon Area 3, Bethlehem-Liberty 2
MOON AREA - 0 - 0 - 1 - 0 - 1 - 1 - 0 - 3
LIBERTY - 0 - 0 - 0 - 0 - 0 - 2 - 0 - 2
E - Lovely 2, Rinaldi. DP - Liberty 1. LOB- Moon 10, Liberty 7. 2B - Ritter, Holliday. HR - Rinaldi. SB - Jaxheimer, Rosado, Biggs. CS - Sykes.
- - - - - - - - IP - H 4 R ER BB SO
Moon Area
Blyzwick, W (9-2) - 6 - 5 - 2 - 1 - 2 - 5
Holliday, SV - 1 - 0 - 0 - 0 - 1 - 1
Bethlehem Liberty
Brotosky, L (9-1) - 5 - 10 - 3 - 3 - 2 - 3
Heimpel - 2 - 1 - 0 0 4 = 2
Brotosky picthed to one batter in the sixth.
WP - Blyzwick 1, Heimpel 2.
---
TIMES NOTES - Holliday leaning toward Pirates .....
By Bill Utterback and Eric Hall, Times Sports Staff
WILLIAMSPORT - Now that Moon Area's Brian Holliday has completed his scholastic baseball career, he's left with a choice. The 6-foot-3 pitcher will decide between spending next season at the University of Kentucky or signing with the Pittsburgh Pirates. It appears the latter is the more plausible choice, according to Holliday's remarks moments after Moon clinched its second straight PIAA Class AAA title Tuesday at Bowman Field with a 3-2 win over Bethlehem-Liberty. "I got to talk to the scout and talk to the Pirates' organization about the negotiations we can make out and take it from there," Holliday said. "If I had to say anything, I think I'm leaning towards signing with the Pirates." The Pirates drafted Holliday in the 12th round of the first-year player draft held earlier this month. He accepted a scholarship to pitch at Kentucky in the fall. If Holliday does sign with Pittsburgh, chances are he'll start his minor-league career at rookie-level Bradenton. But it probably wouldn't be long until he was promoted to short-season Class A ball, and the Pirates' affiliate is the Williamsport Crosscutters. So the field on which Holliday got one PIAA title win and saved another could soon become his home field.
LOVELY ENDING .......
Tuesday was a roller-coaster ride for Moon third baseman Kevin Lovely. He began the game with three singles in three at bats, one of them driving in Dave Kuhn with two outs in the third inning for the contest's first run. In the sixth, however, Lovely committed a pair of errors, the second when he hurried a throw to first base on a ground ball, allowing Liberty's second run to score. But that didn't get Lovely down. Lovely shrugged off his personal failures to join his teammates in revelry. The effervescent Lovely flung himself in the air when Mike Ritter's catch put the wraps on a second straight title. As for his personal triumphs, Lovely recognized that Liberty pitcher J.T. Brotosky was relying on his curve a bit too much. Lovely waited for it, and nailed the offering into center to score Kuhn and break a scoreless tie. "I knew I had to pick my team up," Lovely said. "We have all different kind of weapons, hitting, pitching and defense, too. So I thought I had to step up there."
SO WHICH WAS BETTER ? .......
Comparing two state championships isn't an easy task. But Moon players seemed to think that this year's title was better than last year's - even if by a tiny margin. "Last year we had no idea what it was to play for the states. This year, we came in relaxed and knew how to handle ourselves," Lovely said. "It was an experience, being here as a junior then coming back as a senior." "We went through a lot more this year," said Ritter, speaking of the Tigers' difficult drive just to qualify for the postseason after starting the year out slowly. "It was tough doing it twice in a row."
BEHIND EVERY GREAT MAN ......
Tom Hoffman never wore his 2002 championship medal. As soon as it was presented to him, he grabbed in his fist and raced to his wife, Jill. As he said, "You deserve this, you deserve this," he dropped the gold medallion around her neck. They shared a long, warm embrace. "She's gone through so much since I started coaching," Hoffman, Moon Area's head coach, said. "From December until June, I'm gone so much of the time. We open the (batting cages) in December, and I go from work to practice so many nights. I miss a lot of meals. I leave her with three kids so much of the time. "Its tough, but I couldn't have done this without her. We've done this together." It was a family celebration for the Hoffmans. Brett, 9, has been the team's bat boy. Austin, 4, and Chelsea, 9, were pulled into the team photographs as well. Tom Hoffman's story parallels the celebrated story of Jim Morris, the former Tampa Bay Devil Ray pitcher who was the central figure in the movie "The Rookie." Morris was an ex-minor league pitcher who became a teacher and high school coach in Texas. He pitched batting practice to his team and promised his players he would attend a big league tryout camp if they won the district title. Morris's team won, he passed the tryout and eventually pitched for the Devil Rays. Morris was often pictured driving a pickup truck, with his son sitting next to him. His wife and kids were his chief concerns. Tom Hoffman is a former Pirate minor leaguer whose pitching career ended with an elbow injury. But he pitches batting practice every day, and travels in a pickup truck with his son by his side. His team, of course, won the state title Tuesday in Williamsport. Hoffman hasn't seen The Rookie, and doesn't want to see it. It might inspire him, and he's content to be the coach. "My career is over," he said. "I can pitch batting practice, but that's all I can do."
ENDING WHERE HE STARTED .......
David Kuhn was the catcher during the 2001 PIAA championship season but needed shoulder surgery after football season. He couldn't throw a baseball when the season started, so he moved to designated hitter. In the final inning of the season, after Coach Tom Hoffman used a pinch hitter in place of starting catcher Derek Compo, Kuhn pulled on his catching gear and ended his scholastic career with a mask and a mitt. "It was the best inning I've ever caught," Kuhn said. "It was the toughest thing in the world for me (to give up catching for most of the season), but it was worth it."
"MAV" RETURNS ......
Joe Marek, known as Joe Mav in Moon baseball circles for three decades, joined the varsity baseball team again for the 2002 championship game. Marek joined Moon Area's baseball program as a student statistician for coach Ray Bosetti in 1973. He kept the job through the 2000 season, when he married Kelley and moved to Upland, Pa., a suburb of Philadelphia. He still maintains Moon Area's varsity baseball Web site. "I feel like something is complete in my life now," he said as he watched the celebration on the field after the game. "I've watched these kids grow up, from Little League through Pony League, and I knew they were special. I'm glad I could be here to see this today." Marek's only regret was that Rich Krane wasn't sitting next to him. Krane, who died a few years ago, started Moon Area's booster club and was a long-time supporter of Moon baseball. A youth league field in Moon carries his name. "I hope he was watching today," Marek said.
---
PIAA Class AAA Baseball Championship: Moon first school to win 2 PIAA Class AAA baseball titles in a row
By Mike White, Post-Gazette Sports Writer
WILLIAMSPORT, Pa. -- Moon players and coaches posed for three minutes as several fans snapped team pictures on the field. As champions go, those photos should be double prints. Moon made history when it won the PIAA Class AAA championship with a 3-2 victory against Bethlehem Liberty at Bowman Field. The Tigers became the first team to win back-to-back Class AAA championships since the PIAA playoffs began in 1977. Only two other teams have won two titles in a row. But West Perry (1979-80) and Oley Valley (1984-85) did it in Class AA. Maybe the people at Bowman Field had Moon in mind when they made the sign at the entrance to the minor-league park that is home to the Williamsport Crosscutters. It reads, "Welcome To Historical Bowman Field." "This year was a lot different and it was a lot tougher because we couldn't sneak up on anybody," said Moon Coach Tom Hoffman. "To win two in a row in Triple-A is really unbelievable." The Class AAA game was the last of three title games played at Bowman yesterday. The championships attracted a total crowd of 3,508.
Moon (20-6) got hits from eight players yesterday and a strong six-inning pitching performance from senior right-hander Derek Blyzwick, who gave up five hits and struck out seven. He gave way in the seventh to senior Brian Holliday, who retired the Hurricanes without a hit. "We just made history," said Moon left fielder Ryan Rinaldi. "A lot of this team has been together since we were 8 years old and we've won a lot over the years. We're all pretty close. To do this with your friends is really something." Rinaldi played a gigantic role in the game. His solo home run in the sixth inning gave Moon a 3-0 lead and it turned out to be the difference in the game as the Tigers had to hold off a comeback by Bethlehem Liberty (23-5). It was only the second home run of Rinaldi's high school career and he certainly picked two good times to hit them. "We don't get past the first round of the WPIAL playoffs without him," said Hoffman, whose team needed a sixth-inning homer from Rinaldi to beat Franklin Regional, 4-3, in a WPIAL game last month.
But Rinaldi also was involved in a key defensive play against Bethlehem Liberty. In the third inning, Liberty's Andy Yencho got a two-out walk. Ryan Jaxheimer followed with a single to left field, and Rinaldi was unable to field the ball cleanly. After it bounced past him, he chased it down, made a good relay throw to shortstop Mike Ritter, who made a perfect throw home to nail Yencho and keep the game scoreless. "We took a gamble there and we lost," said Liberty Coach Harry Dudeck, who retired after 19 seasons. "But the name of the game is you have to hit the ball. We knew that coming in and we knew they had good pitchers. They just shut us down."
Moon had a 3-0 lead heading into the bottom of the sixth. Kevin Lovely, who was 3 for 4, drove in the first run in the third with a single. Austin Sykes' single brought home the second run in the fifth. "I looked up at the scoreboard at one point in the game ... we were ahead, 2-0, and they had only two hits. It was weird because it seemed just like last year," said Holliday, who pitched a two-hit shutout in the 2-0 title game victory a year ago. Rinaldi's home run gave the Tigers a three-run lead before Liberty made things interesting in the bottom of the sixth. Jaxheimer led off with an infield single and moved to second on a wild pitch. Matt Geiger followed with an infield single, and Matt McBride's sacrifice fly made the score 3-1. Lovely made a throwing error later in the inning, allowing another run to score. Liberty had two runners aboard when Blyzwick fielded a ground ball to end the threat. Lovely, who was barking on the field at times during the game, said afterward he wanted to apologize to Blyzwick for his error. "But I swear when [shortstop] Mike Ritter and I start barking, our pitchers do better," Lovely said. "When we did it today, Derek did better." Hoffman thought Blyzwick (9-2) had enough to finish the game, but he brought in Holliday for the seventh because Liberty had three left-handers coming to the plate after the first batter.
"To win this thing in Triple-A is so tough and to be the first to do it two years in a row is something," said Holliday, a 12th-round draft pick of the Pirates a few weeks ago. "What a way to go out."
---
---
You can listen to the game rebroadcast on the internet on NSNSports.com or via WBVP AM radio. :
NSN Sports Internet Broadcast: Blackhawk at Moon Area

---
---
Brian Holliday became the first-ever Tiger to be drafted right out of High School. The Pittsburgh Pirates drafted him in the 12th round of the MLB Amatuer Draft. The Senior LHP will have a tough choice coming up when he will announce after the season whether to go to the University of Kentucky or if he will go pro with the Pirates. Other notable Tigers, that were drafted later or out of college include, Brad Aurila (Class of '88)(Montreal), Garry Grafton ('73)(Detroit), Bob Mariano ('76) (New York Yankees), Tim Hogle (Chicago Cubs)('74), and Tom Matthews ('87)(Los Angeles). Tony Liska ('79) also played minor league baseball but was signed as a free agent, not drafted.
---
THE PIAA CLASS AAA FIRST ROUND PLAYOFFS - Monday June 3, 2002
WESTERN BRACKET :
State College 9 - Mount Lebanon 4 (8 innings)
MOON AREA 11 - Carrick 2
BLACKHAWK 5 - DuBois 4
Meadville 3 - North Allegheny 1
EASTERN BRACKET :
Chambersburg 8 - Neshaminy 3
Williamsport 2 - West Chester Henderson 1 (9 innings)
Conestoga 13 - Manheim Central 12
Bethlehem Liberty 2 - Waynesboro 1 (8 innings)
PIAA Class AAA QUARTERFINALS Playoffs (set for Friday June 7th)
WESTERN BRACKET :
MOON AREA (17-6 ;(7-4) vs. State College (18-2 ;(6-1) at Altoona's Mansion Park at 6 PM
BLACKHAWK 8 - Meadville 2
EASTERN BRACKET :
Williamsport 5 - Chambersburg 1
Bethlehem Liberty 8 - Conestoga 2
PIAA CLASS AAA SEMIFINAL PLAYOFFS (Monday June 10 th)
WESTERN CHAMPIONSHIP
MOON AREA 3 - Blackhawk 0
EASTERN CHAMPIONSHIP
Bethlehem Liberty 10 - Williamsport 8* (8 innings)
2002 PIAA Class AAA CHAMPIONSHIP GAME (Tuesday June 18) at Williamsport, Pa.
MOON AREA 3 - Bethlehem Liberty 2
---
PS - Thank you NSNSports and Don Rebel, Jason Coleman, Bob Orkwis and the rest of the NSNSports.com gang for broadcasting all the games you could this year !!! Being stuck here in Philly, it allows me to enjoy the game from afar. Continued success in the future. By the way, thanks for the mentions, Don and Jason, Ol'Moondawg is listening !!!
---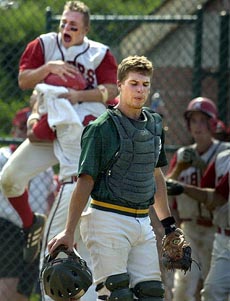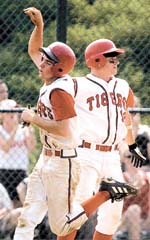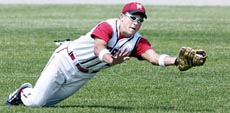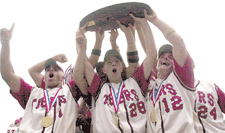 ---
Eleven-year journey capped with gold
By Bill Utterback, Times Sports Staff
WILLIAMSBURG - As the Moon Area seniors gathered for a team photo - gold medals dangling against their hearts -somebody shoved Mark Thompson toward the group and everybody cheered, everybody smiled. The picture was complete. The journey ended with Moon Area's second consecutive PIAA AAA championship. It ended with a piece of history. No other Pennsylvania baseball team has ever won back-to-back AAA titles. When discussion turn to Pennsylvania's greatest baseball teams, the conversation must begin with Moon. The journey began with Thompson and a bunch of energetic, ambitious children.
Thompson was the head coach, and Jeff Ritter was his assistant, when Jeff Bradford, Derek Compo, David Kuhn, Ryan Rinaldi, Michael Ritter and Scott Thompson, now seniors and two-time champions, were brought together as an 8-year-old all-star team. They won tournament titles in Bridgeville, Ambridge, Burgettstown and Economy. As 9-year-olds, they won titles in New Brighton and Economy.
In 1994, Brian Holliday, Austin Sykes and Derek Blyzwick joined the team, which won tournaments in Moon Township, Cranberry, Center Township and Baden.
In 1995, Kevin Lovely and his father, varsity assistant Mike Lovely, joined the team. Moon won tournament titles in Findlay, West View and Chartiers-Houston.
In 1996, Moon dropped the Pennsylvania Little League championship to Somerset.
In 1998, the seventh year of their journey, they qualified for the Pony League World Series, beating reigning champion Taipei before being eliminated late in the week. Derek Blyzwick, the winning pitcher against Taipei, was the winning pitcher in the 2002 state championship game. Rinaldi, who had the game-winning RBI against Taipei, hit the decisive home run in the 2002 state championship game. Kevin Lovely and Austin Sykes, who had run-scoring singles against Taipei, contributed run-scoring singles in the state title game. Kuhn scored a run against Taipei, and two runs in the 2002 title game. "We've been together since we were 8, and along the way, I got the feeling that together we could do something great," Bradford said. It's been a long, glorious journey, shared by players, former coaches, present coaches and their families. The original group has been together for 11 seasons. They worked together. They laughed together. They cried together. They grew together. They triumphed together.
"When I came out today, I was surprised. I wasn't nervous," Kuhn said. "I was with my best friends. I was with all my friends, and I knew we were ready. We've been working a long time for us, and together we produced one of the greatest achievements in sports, at least around here. How many players have been part of consecutive championship teams?" In Pennsylvania, in scholastic baseball's highest classification, there's only a few, and they wear Moon uniforms. "I'm just so happy I can share this with my teammates," Sykes said. "I'm so happy I could share it with my friends."
---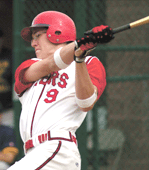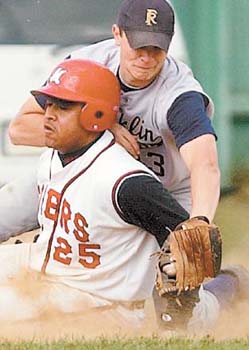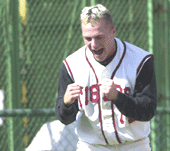 ---
---
THE 2002 WPIAL Class AAA PLAYOFF ZONE ......
The WPIAL Class AAA Preliminary Round :(Friday May 17/Monday May 20)
Baldwin 10 - Uniontown 1
Laurel Highlands 6 - Chartiers Valley 1
Woodland Hills 2 - Penn-Trafford 1
The WPIAL Class AAA First Round: (Monday May 20/Tuesday May 21)
Mount Lebanon 10 - Woodland Hills 0
Kiski Area 2 - North Hills 0
Hampton 4 - Trinity 3 (13 innings*)
North Allegheny 6 - Connellsville 3 (9 innings*)
Upper St. Clair 4 - Laurel Highlands 1
MOON AREA 4 - Franklin Regional 3
Plum 10 - Seneca Valley 5
Blackhawk 2 - Baldwin 1
WPIAL Class AAA Quarterfinals:
Thursday, May 23rd...
Mount Lebanon 5 - Kiski Area 3
North Allegheny 6 - Hampton 5
MOON AREA 7 - Upper St.Clair 6
Blackhawk 3 - Plum 1
2002 WPIAL Class AAA Semifinals - Saturday May 25th at Butler's Pullman Park
Mount Lebanon (21-1) 9 - North Allegheny 3
Blackhawk (17-2) 1 - MOON AREA (16-6) 0
2002 WPIAL Class AAA Championship at PNC Park, Friday May 31 at 7:00 PM
Mount Lebanon (22-1), 2 - Blackhawk (17-3), 0
---
USA TODAY's FINAL REGIONAL RANKINGS
Final 2002 regional baseball rankings
June 19, 2002
East
1. DeMatha, Hyattsville, Md. (25-5)
2. MOON AREA, Coraopolis, Pa. (20-6)
3. Archbishop Molloy, Briarwood, N.Y. (21-5)
4. Fairfield, Conn. (22-2)
5. Monroe, Bronx, N.Y. (38-4)
6. Delbarton, Morristown, N.J. (25-6)
7. Mount Lebanon, Pittsburgh (22-2)
8. Union, N.J. (26-3)
9. Clarkstown North, New City, N.Y. (27-5)
10. Archbishop Carroll, Radnor, Pa. (20-7)
---
NSN SPORTS.net Archived Games :
To listen to the second Blackhawk/Moon Area game from 4/20/02, Bob Orkwis and Rich Emert had the calls in this game, Click this link :
NSN Sports Internet Broadcast: Moon Area at Blackhawk - The rematch

To listen to the first Blackhawk/Moon Area game from 4/6/02, Don Rebel had the call in this one, Click this link:
NSN Sports Internet Broadcast: Blackhawk at Moon Area

To listen to Moon's WPIAL Class AAA First Round Game vs. Franklin Regional on 5/21/02 with Don Rebel calling the play by play just click here :
NSN Sports Internet Broadcast: Moon Area vs. Franklin Regional - WPIAL Class AAA First Round Playoffs

To listen to Moon's WPIAL Class AAA Quarterfinal Round Game vs. Upper St. Clair on 5/23/02 with Don Rebel calling the action, just click here :
NSN Sports Internet Broadcast: Moon Area vs. Upper St.Clair - WPIAL Class AAA Quarterfinal Round Playoffs

To listen to Moon's WPIAL Class AAA Semifinal Round Game vs. Blackhawk on 5/25/02 with Don Rebel and Jason Coleman calling the game, just click here :
NSN Sports Internet Broadcast: Moon Area vs. Blackhawk - WPIAL Class AAA Semifinal Round Playoffs

---
PA Sportsfever.com's State Baseball Rankings - Compiled by Gordon Blain
Check out Pa. State Baseball and Softball Rankings all season on the PaSportsFever.com website. All teams, regardless of class and affiliation, considered for the PA Top 25. The PA Top 10s are PIAA teams in each class. SPORTSfever staff compiles the rankings in consultation with a network of coaches and writers and broadcasters around the state. Darryl Grumling of the Reading Eagle Times is a contributor. Click here or at the Links site at the bottom of of this page to go to PASportsfever.com and read about Pennsylvania High School sports including football, basketball, baseball, soccer and other boy's and girl's sports. :
PaSportsFever.com: Features great Penna. H.S. Sports coverage and information, Pa.'s Scholastic Sports Bible

---
---
To review last year's 2001 Section 8-AAA standings, schedule, scores, and pictures just click the following link : The 2001 Moon Area H.S. Baseball Schedule and Results:Check out last year's Road To PIAA AAA Gold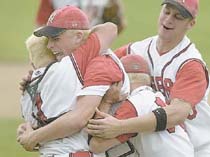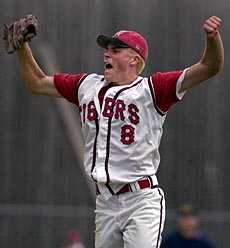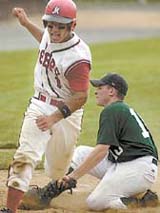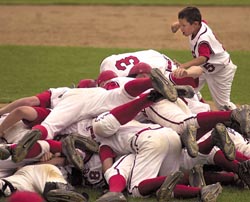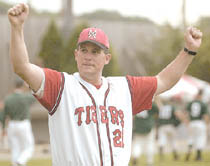 The DREAM SEASON CAME TRUE !!! The Moon Area Tigers made school history by winning thier first ever STATE TITLE in front of a large crowd in Williamsport. Holliday again showed why Tiger pitching is second to none in the state. Holliday fanned 11 batters in a another 2 hit shutout over Central Dauphin. With 2 outs and runners on 2nd and 3rd, Crighton, singled home PR Bruzzese and then moments later a passed ball allowed Kuhn to score with Moon's last run. For 29 years, I saw this DREAM coming. God Bless You Moon Tigers for allowing me to see this DREAM COME TRUE !!! Congratulations 2001 PIAA Class AAA STATE CHAMPIONS !!!!
Relive the moment, the actual play by play score sheet. Just click here. It includes box scores.
MOON WINS PIAA: PIAA WEBSITE

---
2002 WPIAL SECTION 8-AAA Final Standings 5/16/2002
---
| | | | | |
| --- | --- | --- | --- | --- |
| TEAM | WIN | LOSS | PCT | GB |
| *-Blackhawk | 9 | 1 | .900 | --- |
| #-MOON AREA | 6 | 4 | .600 | 3.0 |
| E-Hopewell | 5 | 5 | .500 | 4.0 |
| E-Montour | 4 | 6 | .400 | 5.0 |
| E-Ambridge | 3 | 7 | .300 | 6.0 |
| E-West Allegheny | 3 | 7 | .300 | 6.0 |
NOTES : E- Eliminated, # - Clinched a playoff spot, * - Won the Section
---
Check out a great site called Red Zone Media. West Pa. H.S. sports coverage featuring scores, broadcasts, and articles. RED ZONE MEDIA: Great Site to follow Western Pa. High School Sports Action

Hey, if you get a chance please sign my guestbook. Just click here !!!!
For a look at the 2002 Moon Area Varsity Coaching Staff and more info regarding them, click this great link and presto !, your wish comes true. Ah nothing like modern technology. The Moon Area Varsity Baseball Coaching Staff: Moon Area H.S. Roster and Staff

The Moon Area Varsity Baseball Record Book Homepage: Moon Area H.S. Varsity Baseball Records 1963-2002

2002 MOON AREA Varsity Schedule as of: 5/24/2002
---
| | | | | | | | | | |
| --- | --- | --- | --- | --- | --- | --- | --- | --- | --- |
| Date | Day | Time | EX-LEAG | Location | Opponent | H/A | W/L | Score | Record |
| 3/23/2002 | Sat | TBA | EX | CocoaExpo | Colbert County,Ala | A | WIN | 6-5 | 1-0 |
| 3/24/2002 | Sun | TBA | EX | Cocoa Expo | New Rochelle, NY | A | WIN | 12-4 | 2-0 |
| 3/25/2002 | Mon | TBA | EX | CocoaExpo | DeMatha Cath.,MD | A | LOSS | 3-2 | 2-1 |
| 3/26/2002 | Tue | TBA | EX | CocoaExpo | Van Buren,ARK | A | WIN | 13-7 | 3-1 |
| 3/27/2002 | Wed | 4:00 PM | EX | CocoaExpo | Kirkwood,Mo | A | WIN | 9-1 | 4-1 |
| 3/28/2002 | Thu | TBA | EX | CocoaExpo | Apollo,MN | A | WIN | 13-3 | 5-1 |
| 4/1/2002 | Mon | 4:00 PM | EX | Matulevic Field | Shaler Area | A | WIN | 6-4 | 6-1 |
| 4/3/2002 | Wed | 4:00 PM | EX | Moon Field | New Brighton | H | PPD | 0-0 | 0-0 |
| 4/6/2002 | Sat | 2:30 PM | LEAG | Moon Field | Blackhawk | H | LOSS | 7-2 | 6-2 |
| 4/10/2002 | Wed | 4:00 PM | LEAG | West Allegheny H.S. | West Allegheny | A | WIN | 5-0 | 7-2 |
| 4/11/2002 | Thu | 4:00 PM | LEAG | Moon Field | Hopewell | H | WIN | 6-2 | 8-2 |
| 4/16/2002 | Tue | 4:00 PM | LEAG | Moon Field | Montour | H | WIN | 10-0 | 9-2 |
| 4/17/2002 | Wed | 4:00 PM | LEAG | Ambridge H.S. | Ambridge | A | LOSS | 2-1 | 9-3 |
| 4/18/2002 | Thu | 4:00 PM | EX | Moon Field | Keystone Oaks | H | WIN | 15-3* | 10-3 |
| 4/20/2002 | Sat | 11:00 AM | LEAG | Blackhawk H.S. | Blackhawk | A | LOSS | 11-1* | 10-4 |
| 4/23/2002 | Tue | 4:00 PM | LEAG | Moon Field | West Allegheny | H | WIN | 10-0* | 11-4 |
| 4/25/2002 | Thu | 4:00 PM | LEAG | Collela Field | Hopewell | A | LOSS | 5-2 | 11-5 |
| 5/1/2002 | Tue | 4:00 PM | LEAG | Moon Field | Ambridge | H | WIN | 7-1 | 12-5 |
| 5/4/2002 | Sat | 1:00 PM | EX | Moon Field | Sto-Rox | H | WIN | 6-4 | 13-5 |
| 5/6/2002 | Mon | 4:00 PM | LEAG | Montour H.S. | Montour | A | WIN | 7-2 | 14-5 |
| 5/21/2002 | Tue | 3:00 PM | WPIAL | Butler | Franklin Regional | A | WIN | 4-3 | 15-5 |
| 5/23/2002 | Thu | 5:00 PM | WPIAL | Shaler | Upper St.Clair | A | WIN | 7-6 | 16-5 |
| 5/25/2002 | Sat | 2:00 PM | WPIAL | Butler | Blackhawk | A | LOSS | 1-0 | 16-6 |
| 6/3/2002 | Mon | 3:00 PM | PIAA | Shaler | Carrick | A | WIN | 11-2 | 17-6 |
| 6/7/2002 | Sat | 6:00 PM | PIAA | Altoona | State College | A | WIN | 4-3 | 18-6 |
| 6/10/2002 | Mon | 3:00 PM | PIAA | Shaler | Blackhawk | A | WIN | 3-0 | 19-6 |
| 6/18/2002 | Tue | 4:00 PM | PIAA | Williamsport | Bethlehem Liberty | A | WIN | 3-2 | 20-6 |
---
To view last year's 2000 Moon Area Schedule and results just click here : The 2000 Moon Area H.S. Baseball Schedule and Results:Check out last year's WPIAL Quarterfinal run

---
ABOUT OUR PROGRAM - Moon Area (PA.) High School is located approximately 17 miles WNW of Downtown Pittsburgh, PA. (Click the handy Yahoo! Map button on the bottom of this page) right in the back yard of Pittsburgh International Airport. Moon Area is a member of the Western Pa. Interscholastic Athletic League) which is considered to be the largest Scholastic athletic group in the country. Moon Area is also a member of the PIAA (Pa. State Interscholastic Athletic Assoc.) Moon Area has a Class AAA designation. Moon Area H.S. Baseball program is grades 9th thru 12th. The school sponsors a VARSITY, JR. VARSITY, and FRESHMEN teams. THE 2002 coaching staff are Tom Hoffman - (3rd yr., 4th yr. program) Head Varsity and program coach. Dom Santeufemio (10th yr.) - Asst. Varsity Coach. Mark Thompson (5th yr.) - JV Head Coach. Mark Daddi - Asst JV Coach (1st yr). Doug Busch (1st yr) - Ninth Grade Head Coach . Joe Farquhar - (2nd Yr.) Varsity Statistician. Brett Hoffman is in his 4th year as the Varsity BATBOY. Joe "Mav" Marek is in his 30th year in the program as webmaster and historian. The New MASD superintendant is Dr. Alexander Meta. MASD Athletic Director is Mr. William Moore. Moon Area Sr. High Principal is Mr. Michael Hauser. Athletic Trainer is Jerry MacFarland.