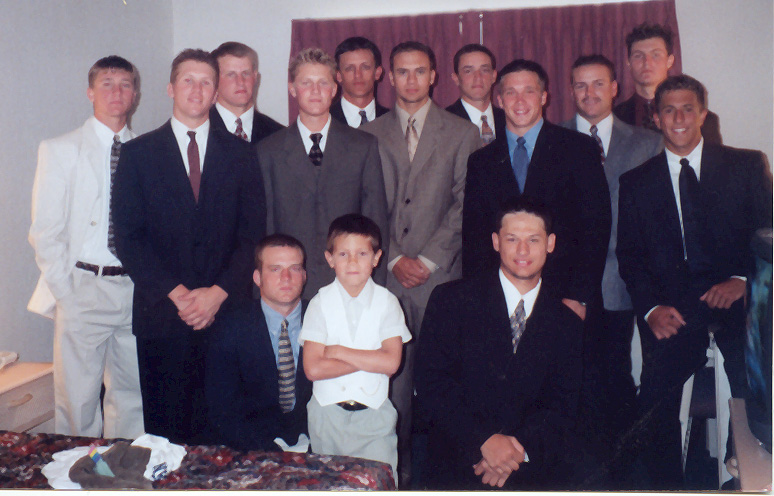 Front Standing : Brett Hoffman (BB,Mascot, Player Agent) - Front kneeling (L-R) : Matthew Miller (OF), Ryan Kaintz (INF) - Standing (L-R) : Alan Miller (OF), Derek Julin (INF), Jason Bunda (OF), Adam Domski (INF), Tim Crayton (1B), Chris Bernardi (INF-P), Larry Speelman (OF), Brett Ozanich (INF-OF-C-P), Jason Boyce (P-OF-1B), Eric Horchy (P), and Jason Gilotty (C). Their final record was 27 - 5 and they finished ranked #7 in the state. Missing from picture is Manager Tom Hoffman, Assistant Coaches : Dom Santeufemio, Joe Marek, and Larry Speelman.
IT"S FITTING MOON TOWNSHIP AND HOPEWELL MEET IN WESTERN PA. CHAMPIONSHIP
By Bill Utterback - Beaver County Times Sports Staff
ST. MARY'S, PA. (Reprinted from Thursday August 5th, 1999)
On a baseball field 150 miles from home, Hopewell American Legion manager Joe Colella tried to explain the geography and history of the surging Hopewell and Moon Township baseball rivalry to a reporter from Dubois.
Moon Township, he explained, includes athletes from Moon Area and West Allegheny high schools.
"On the last day of the high school season, Moon, West Allegheny and Hopewell were all tied for first place in our section. At the end of he Legion season, we're all here in the state championship tournament. It's been that kind of year.
"It's been an extraordinary year. It's been an exhilirating year. It reached an intriguing climax Wednesday when Hopewell and Moon Township collided in a Pennsylvania American Legion state championship tournament game at Berwind Field.
There were no trophies or medals awarded, but the game was clearly for the unofficial but not insignificant 1999 Western Pennsylvania championship.
Of the eight teams who qualified for a state championship, only two -- Hopewell and Moon Township -- come from the west.
Hopewell came as the Beaver County League and Region 8 champion.
Moon Township came as the Ohio River League and Region 6 champion.
They had never met in an American Legion game. The collision was memorable. The score was 0-0 after five innings. Hopewell led 1-0 after seven innings. Two runs in the bottom of the eighth secured Hopewell's 3-0 win, but Moon had two runners on base and the tying run at the plate in the ninth.
It was an enthralling game, one that featured Hopewell's Stan Posluszny and Moon's Jason Boyce, arguably the two most influential players in western Pennsylvania this summer. It was strength versus strength and it was determined by Hopewell's aggressive play on the basepaths and on defense.
A single play changed the course of the game.
In the bottom of the sixth, Hopewell's Devin Kearns drew a leadoff walk.
Boyce, a left-hander with a killer move to first, was pitching.
Jason Gilotty, with a lightning release and a powerful arm, was catching. He had thrown out a runner trying to steal in the fourth inning.
Kearns, with prime-time speed, looked at Colella in the third-base coach's box and saw the steal sign. Strength vs. strength. Kearns had been thrown out stealing in Tuesday's tournament opener, but his confidence was unaffected.
"I was thrown out for the first time in my life yesterday, and there's no way I was going to let that happen two days in a row," Kearns said. "I didn't get a good jump, but I got there as fast as I could."
Gilotty was forced to handle a breaking ball low and off the plate. He snatched it and lasered a perfect throw to shortstop Adam Domski. The ball arrived half-a-heartbeat behind Kearns. Three pitches later, Dan Nale ripped a two-strike single through the right side of the infield and Kearns scored, changing the dynamic of the game.
"Kearns is the fastest kid I've ever managed," Colella said. "If I don't run with him, when do I run? That's the way I manage. In a 0-0 game, you have to take some chances, but I'll take a chance on Devin Kearns every time."
Hopewell's defense -- and the unflappable pitching of Posluszny -- was also extraordinary.
In the first inning, Moon's Matt Miller delivered a one-out single. But Nale, at third base, gloved a ground ball and, along with second baseman Brian Stauber, produced a double play.
In the seventh inning, Hopewell made three big-time plays after Brett Ozanich was hit by a pitch:
1. Ray Antonelli made a charging, sliding catch of a line drive by Jason Bunda in right field.
2. Kearns, a catcher, nailed Ozanich trying to steal second.
3. After Tim Crayton walked and moved to second on a single by Boyce, Adam Domski singled to center. Sean Honeywill charged the ball and threw a strike to Kearns, who caught Crayton in a rundown. Nale made the tag.
Kasey Keenan, the team's 15-year-old shortstop, handle five chances flawlessly. Nale, playing with a sore shoulder, made several big throws. Mike Duganich, playing first base, made two difficult catches of foul balls against the dugout.
"You can go right down the lineup and say something good about everybody today," Colella said. "We needed everybody today."
Moon also played extraordinary, errorless defense.
Ozanich, in a typical performance, was relentless. He pitched a complete game Friday. He caught a doubleheader Saturday. He caught Tuesday and nailed a runner trying to steal. He moved to third against Hopewell and made five big-time plays. Crayton made several key plays at first base.
Hopewell advances in the tournament.
Moon must be satisfied with its long list of accomplishments. Most significantly, it expanded the perimeters of possibility for the Moon teams that follow. The 1999 team, managed by Tom Hoffman and assistants Dom Santeufemio, Larry Speelman and Joe Marek, proved that Moon Township belongs among the state's elite programs.
The Moon/West Allegheny/Hopewell rivalry will continue, deliciously. Boyce, outfielder Alan Miller and infielder Derek Julin return to West Allegheny.
Bunda, Crayton, Domski, Gilotty and pitcher Eric Horchy return to Moon.
Posluszny, Antonelli, Keenan, Stauber and Duganich return to Hopewell.
In the Chartiers Valley Colt League championship, Moon Red defeated Hopewell. Those players will populate the varsity and American Legion rosters in the next few years, insuring the continuation of the rivalry.
With two of Pennsylvania's strongest baseball communities sitting side by side, Colella won't have to explain the details much longer. Everybody will soon know.